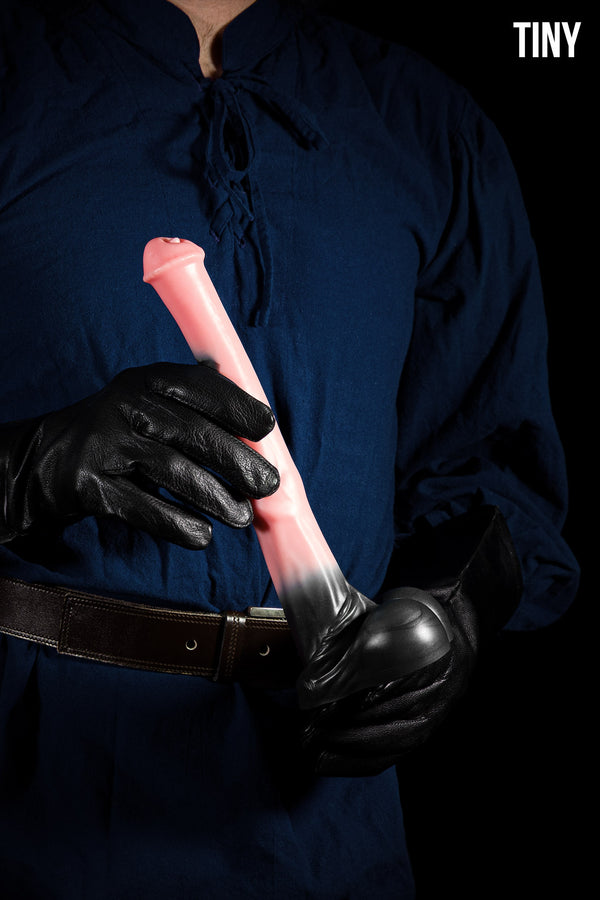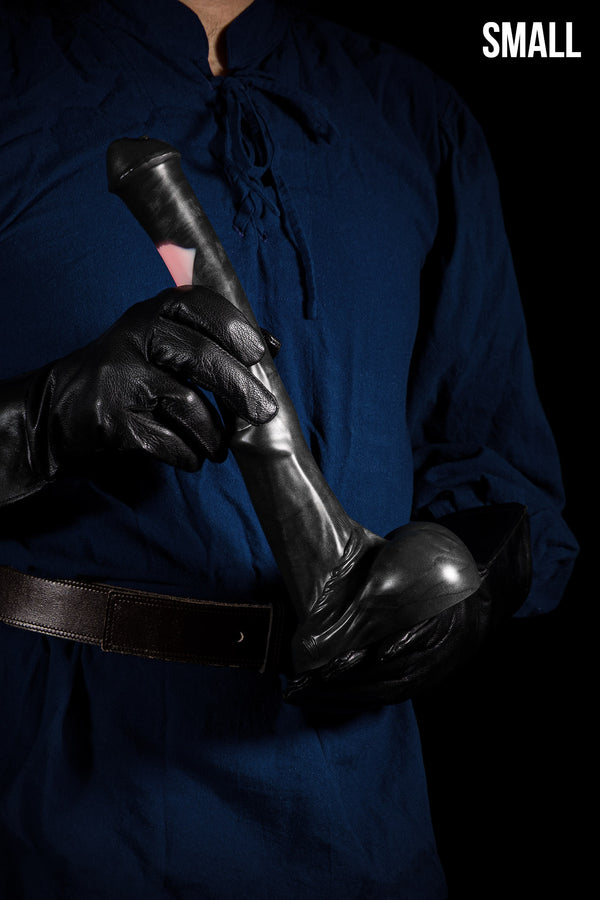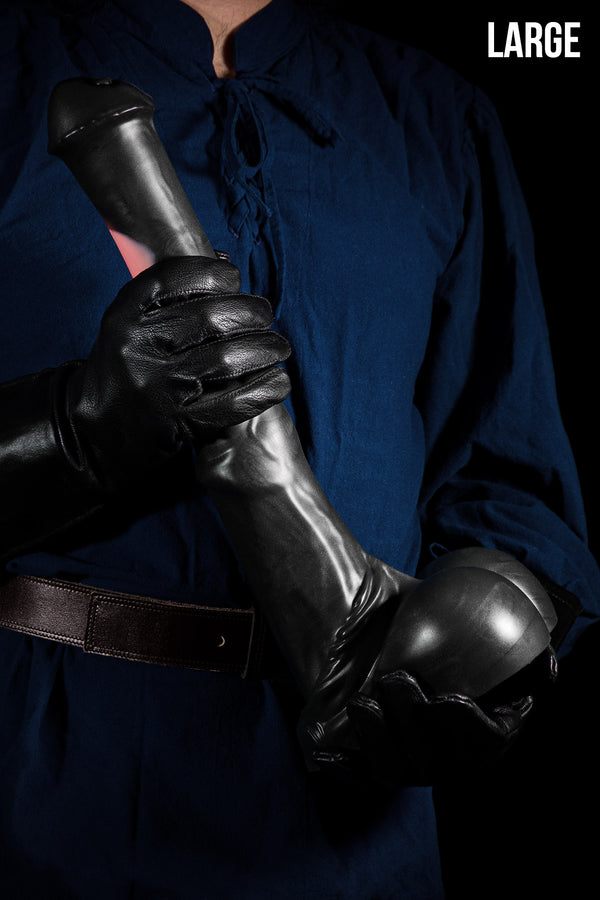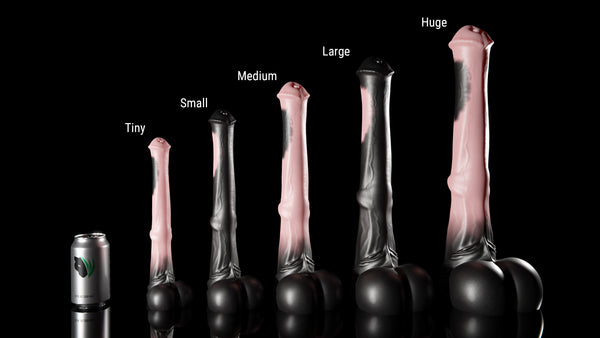 Who needs finesse when you've got range? Take hold of the indomitable Zweihander, our zebra toy, and you'll be sure to hit those hard to reach places!
The Zweihander is available in four different sizes, three firmness choices, and many color options including our realistic Masterwork colorations, "Zebra Natural" and "Natural Inverted".
The Zweihander is unique in that its length is much greater than its width compared to our other designs. Because of this, we have some notes and changes:
Colorations where there is normally a color split between the shaft and base will instead be a fade between each color.
Colorations featuring a fade will be blended between the tip and medial ring only.
Its long and flexible design was created with depth training in mind. It cannot stand on its own and its perceived firmness will be lower in comparison to shorter toys. However, once inserted, its large base will provide plenty of weight to keep it stable during use.
Dimensions (in)
| | Tiny | Small | Medium | Large | Huge |
| --- | --- | --- | --- | --- | --- |
| Usable Length | 10.0 | 11.5 | 13.0 | 14.5 | 16.0 |
| Length Before Medial | 6.6 | 7.7 | 8.7 | 9.7 | 10.9 |
| Head Width | 1.6 | 2.0 | 2.4 | 2.7 | 3.1 |
| Shaft (Before Medial) Width | 1.3 | 1.6 | 1.9 | 2.2 | 2.5 |
| Shaft (Base) Width | 1.6 | 2.0 | 2.4 | 2.7 | 3.0 |
| Head Circumference | 5.0 | 6.2 | 7.5 | 8.5 | 9.6 |
| Shaft (Before Medial) Circumference | 4.0 | 5.0 | 6.0 | 7.0 | 8.0 |
| Shaft (Base) Circumference | 4.9 | 6.2 | 7.3 | 8.4 | 9.5 |
Dimensions (cm)
| | Tiny | Small | Medium | Large | Huge |
| --- | --- | --- | --- | --- | --- |
| Usable Length | 25.4 | 29.2 | 33.0 | 36.8 | 40.6 |
| Length Before Medial | 16.8 | 19.5 | 22.2 | 24.5 | 27.7 |
| Head Width | 4.0 | 5.0 | 6.0 | 6.9 | 7.8 |
| Shaft (Before Medial) Width | 3.2 | 4.0 | 4.9 | 5.7 | 6.5 |
| Shaft (Base) Width | 4.0 | 5.0 | 5.9 | 6.8 | 7.7 |
| Head Circumference | 12.7 | 15.8 | 19.0 | 21.7 | 24.5 |
| Shaft (Before Medial) Circumference | 10.2 | 12.7 | 15.2 | 17.8 | 20.3 |
| Shaft (Base) Circumference | 12.5 | 15.7 | 18.6 | 21.5 | 24.2 |
Firmness Guide
Soft (1) bends and squishes very easily while Firm (8) is more rigid and will not easily compress. Medium (4) is a balance between the two. While firmness is a matter of preference, here are our recommendations (more ★'s the better):
| | | | |
| --- | --- | --- | --- |
| | Soft (1) | Medium (4) | Firm (8) |
| Tiny | ★ | ★★ | ★★★ |
| Small | ★★ | ★★★ | ★★★ |
| Medium | ★★ | ★★★ | ★★★ |
| Large | ★★★ | ★★★ | ★★ |
| Huge | ★★★ | ★★ | ★ |
Additional Media